Läs och Gör – Read and Do
ThreadAnimals är en Yahoo-group som jag är med i och där man kan hämta massor med inspiration! Med jämna mellanrum har de små tävlingar, ofta på initiativ av generösa och begåvade Berta Hesen-Minten från ThReAdTeDs.
Denna gången var det på temat "Läs och Gör" som gick ut på att man ska följa ett skrivet mönster utan att veta vad slutresultatet ska bli. För att kvalificera sig för tävlingen fick man först göra ett arbetsprov.
ThreadAnimals is a Yahoo-group I am a member of, where I can find loads of inspiration! From time to time they have competitions and challenges, often by initiative of the generous and talented Berta Hesen-Minten from ThReAdTeDs.
This time it was on the theme "Read and Do" that was about following a written pattern without knowing what the end result should be. To qualify for the competition, we had to make a sample, a pre-challenge.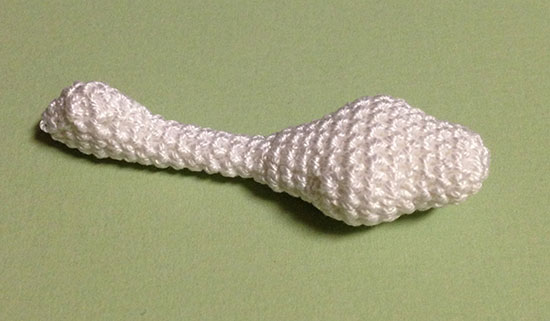 Så här blev det. Vad det föreställer? Ingen aning! Men visst liknar det lite kroppen på en fågel?
This was the result. What it look like? I had no idea! But doesn't it look a little bit like the body of a bird?
Som en för-tävling skulle vi försöka förvandla den här lilla krumeluren till något. Jag bestämde mig för att göra en nåldyna! Eller, det blev en nåldyna för att jag annars inte visste hur jag skulle få fågeln att "flyga".
As a pre-challenge we were supposed to turn this squiggle into something. I decided to make a pincushion! Or it turned out to be a pincushion because I didn't know how else to make the bird "fly". 
Det slutliga Läs-och-gör mönstret visade sig bli en nalle!
The final Read-And-Do pattern turned out to be a bear!
Nu vann jag varken i för-tävlingen eller den slutliga, men det gör absolut ingenting! Jag har haft så roligt!
I didn't win any of the competitions, but that is of no importance! I have had so much fun!