Krukväxter i miniatyr
Miniature Houseplants
For English, please scroll down.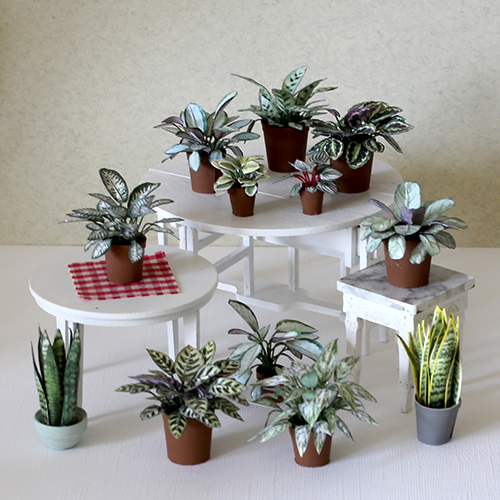 På sistone har mitt virkningsintresse få stå tillbaka för en annan dröm: Ett alldeles eget dockhus! Byggt helt efter eget huvud (ok, jag talar om hur det ska se ut och min käre make bygger), så det växer det fram så sakteliga. Det blir löjligt stort, jag vet, men så är det också en stor dröm jag haft länge.
Huset kommer att efterlikna ett Stockholmshus från förra sekelskiftet, och jag har tillbringat många timmar framför datorn och promenerande i Stockholm för att studera hur ett sådant hus egentligen ser ut både utanpå och innanför dörrarna.
Medan det växer fram jobbar jag på interiören. Såklart måste jag ha många krukväxter i de många rummen! Jag började tillverka dem av papper, och skrev ner hur varje planta gjordes så att det nu finns i en pdf i min Etsy shop.
Pdf-dokumentet beskriver tio olika plantor som är ganska lätta att göra. Du behöver i huvudsak en skrivare, skrivarpapper, blomstertråd, lim, decoupagelack och filterpennor. Utförlig beskrivning på material och hur man gör varje planta ingår i det 23 sidor stora pdf-dokumentet.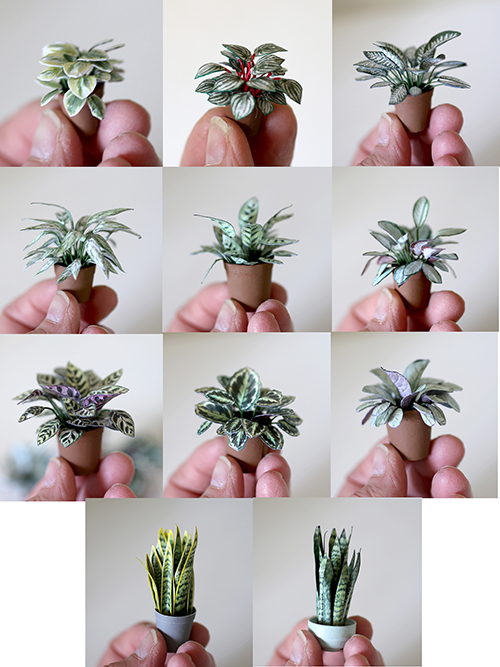 Dessa plantor finns med: Peperomia obtusifolia – Fredsgrönska, Peperomia argyeria – Radiatorört, Dieffenbachia – Prickblad, Aglonema crispum – Silverkalla, Sanseveria trifasciata och Sanseveria laurentii- Bajonettlilja (Svärmorstunga) i två varianter, Calathea makoyana – Påfågelsblad, Calathea Medallion, Calathea Picturata – Spegelblad, Calathea Leopardina – Jaguarkalatea, Calathea Amagris.

Nu funderar jag på nästa omgång krukväxter som är lite svårare att göra, till exempel Yuccapalm och Monstera. Mer om detta senare.
Lately, my interest in crochet has to stand back for another dream of mine; My very own dollhouse! Built entirely on my own (ok, I tell my dear husband what it should look like and he builds it ), so it is coming along day by day. It gets ridiculously big, I know, but it is also a big dream I have had for a long time.
The house will emulate a Stockholm house from the turn of the century, and I have spent many hours in front of the computer and walking in Stockholm to study what such a house actually looks like, both on the outside and the inside.
While it is being built, I work on the interior. Of course, I have to have many potted plants in the many rooms! I started producing them from paper and wrote down how each plant was made so that it is now available as a pdf in my Etsy shop. Now you can also make your own!
The PDF document describes ten different plants that are quite easy to do. Essentially you need a printer, printer paper, flower wire, glue, decoupage lacquer and filter pens. A detailed description of the material you need and how to make each plant is included in the 23-page pdf document.
These plants are included: Peperomia obtusifolia – Baby Rubber Plant, Peperomia argyeria – Watermelon Peperomia, Dieffenbachia – Dumb Cane, Aglonema crispum – Chinese Evergreen, Sanseveria trifasciata och Sanseveria laurentii- Mother in Law Tongue in two varieties, Calathea makoyana – Peacock Plant, Calathea Medallion – Prayer Plant, Calathea Picturata, Calathea Leopardina , Calathea Amagris.
Now I am working on the next batch of pot plants that are a little more difficult to do, such as Yucca and Monstera. More on this later.