For english, please scroll down.
Det finns så många fantastiska kvinnor som arbetat med textilhantverk, och som det är så lite skrivet om. Så lite faktiskt, att man blir förvånad! Det vill jag råda bot på, så efter att ha berättat om Augusta Abrahamsson, författarinnan till den märkvärdiga Märkbok, och den mycket produktiva Sara Lawergren, kommer turen till Elsa Brandstake, författarinnan till Äkta Spetsar.
Om henne själv hittade jag ingenting skrivet. Det jag nu ändå kan berätta om henne har jag hittat genom att läsa kyrkböcker, söka i gamla dagstidningar på Kungliga Biblioteket och i artiklar om hennes familjemedlemmar.
Elsa Brandstake föddes som Elsa Fredrika Marcus den 21 apr 1876 i Mosaiska församlingen i Stockholm. Hon var dotter till Sidenkramhandlaren Fredric Meyer Marcus (1835-1882) och hans andra hustru Hilma Sofia Josephson (1849-1926). Hon kom ifrån en familj med flera prominenta personer, Elsas morbror t.ex. var konstnären Ernst Josephson.
Fadern hade tidigare varit gift med en syster till sin andra hustru, Gelly Josephson (1845-1868) men hon gick bort i barnsäng när dottern Gelly Ruth Hildegard föddes 1868. En son, Semmy Marcus, hade innan dess, år 1866, dött av difteri endast 1 månad gammal.
Utöver sin halvsyster Gelly hade Elsa fyra syskon. Den ena äldre brodern Karl Jakob Marcus (f. 1873) blev medicine doktor, och den andre Nils Abraham (f. 1874) var köpman och gick bort av lungsjuka redan 1916 vid 32 års ålder.
Yngre systern Signe (f. 1878) gifte sig först 1900 med bergsingenjören Claes Bolin (1875-1912) och därefter år 1914 med grosshandlaren Gustaf Uggla (f. 1865) av den adliga släkten Uggla och en yngre bror, Bengt Aron f. 1879 gick bort av tuberkulos 5 år gammal 1885.
Elsa var bara 6 år gammal när fadern gick bort av en hjärnblödning 1882. Modern gifte aldrig om sig, utan försörjde sig själv och sina barn som handlerska.
Elsa studerade spetssömnad vid Deutsche Spitzenschule i Berlin, och hon arbetade som lärarinna i spetssöm, virkning och stickning.
Elsa gifte sig 1905 med sjukgymnasten Axel Jakob Brandstake (f. 1875) som var ifrån Finland. Paret skilde sig 1911, varefter Axel reste tillbaka till Finland där han avled 1916. Paret hade inga barn.
Elsa var under flera år skribent i tidningen Vårt Hem, där hon skrev artiklar om sömnad, virkning, stickning, broderi och mode. Hon var erkänd för sitt kunnande och gav ut flera böcker om textilhantverk.
Hon gick ur tiden av en lunginflammation bara 55 år gammal den 12 juli 1931.
Läs mer om släkten Marcus och släkten Josephson ur Svenskt Biografiskt Lexikon.
_____________________________
Annons för lektioner i Spetssömnad ur Svenska Dagbladet 12 jan 1914 och annons om lektioner i virkning och stickning ur Svenska Dagbladet 6 feb 1922.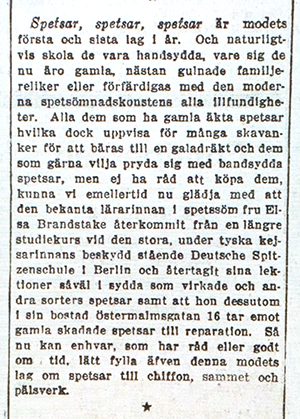 Artikel ur Svenska Dagbladet 14 jan 1914, där det berättas att "den bekanta lärarinnan i spetssöm Elsa Brandstake" återtagit sina lektioner efter utbildningen i Berlin.
Artikel ur Dagens Nyheter 21 aug 1926.
Elsa reste både till Berlin och Paris, och hämtade nog mycket inspiration därifrån. Intressant är att redan 1926 var det vanligt att om man skulle resa till Paris tog man sig dit med flygplan.
Elsa skrev många artiklar i tidningen Vårt Hem, från det tidningen grundades 1921 i så gott som varje nummer. Nedan ett exempel från 1921, där hon berättar att sommarhattarna år 1921 ska vara "luftiga och lätta, graciösa och färgrika." Parismodet hade under "sex långa krigsår dekreterat trista och mörka färger, tycks nu på allvar vilja ta skadan igen med frossande i starka och lysande kulörer".

Artikel ur tidning Idun 16 april 1922. Elsa deltog i tidningen Iduns jumpertävling i januari 1922, genom att virka inte bara en hatt i brunt med ullgarnsblommor i granna färger utan även en hel vardagsklänning i mellanblått och svart. Kjolen i smala ränder av blått och gråbrunt och med virkade volanger kring hals och armar, och skärp med tofsar om livet. För detta vann hon första extrapriset: Iduns vanliga upplaga för återstående delen av året. Klicka här om ni vill läsa hela numret av tidningen.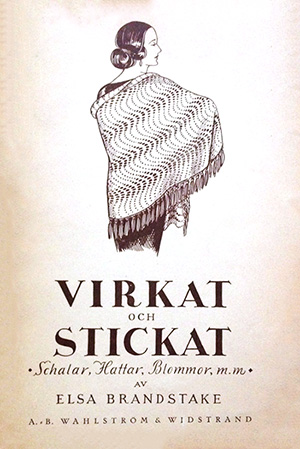 Virkat och stickat, Schalar, hattar och blommor m.m. (AB Wahlström och Widstrands förlag, Stockholm, 1923).Elsas första bok, som innehåller mönster på stickade och virkade plagg som schalar, västar, mössor, halsdukar, damvantar, tofflor, och hattar, men också exempel på vad man kan göra av garnrester: blommor och blader!
En del mönster i boken är aktuella ännu idag! Här exempel från sidan 59-60 i boken.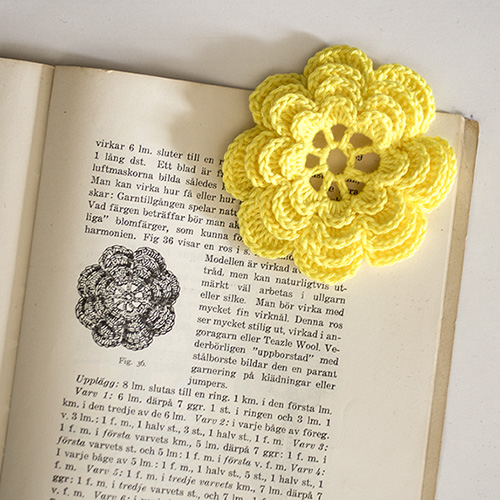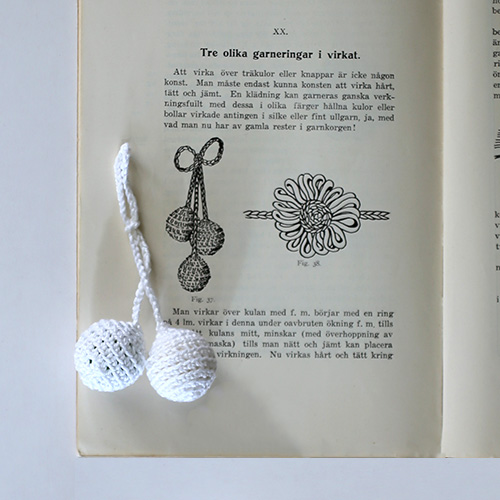 "Att virka över träkulor eller knappar är icke någon konst. Man måste endast kunna konsten att virka hårt, tätt och jämt."

Barnkläder i virkat och stickat – Hemmets Handböcker del 6 (J. A. Lindblads förlag, Uppsala, 1924).Här finns beskrivningar på sockor och strumpor, haklappar, vantar och mössor, klänningar, kostymer och byxor men också numera udda saker som magbindor och lindor till baby.
Signaturen M. S. i denna artikel från Dagens Nyheter 1 juni 1924 har kanske ett lite reserverad inställning till Elsas vurm för stickade och virkade barnkläder.
Äkta spetsar Del I, Knutna och trädda (filet) spetsar, sydda spetsar, frivoliteter – Hemmets Handböcker del 9:1 (J. A. Lindblads förlag, Uppsala, 1925).

Här finns kapitel om spetsens historia, knutna och trädda spetsar, sydda spetsar och frivoliteter.

Annons om boken:"En trevlig lärobok, som kommer att finna intresse och förståelse hos alla handarbetande damer. Säkert kommer den även att vinna nya vänner till den vackra, förnäma konsten som heter Äkta spetsar. Förf. har lagt undervisningen så klar och enkel som gärna är möjligt.
"Äkta spetsar är en underhållande, intressant och mycket nyttig bok".

Även i denna artikel märks det att Elsa var erkänt duktig.

"Nu ligger det ju i själva sakens natur, att den kvinnliga publiken skall intressera sig för ämnet, och detta i än högre måtto då det är Elsa Brandstake, som för spetsarnas talan."

"Och alla upplysningar äro vederhäftiga och tillförlitliga, därför borgar författarinnans namn och stora insikter i ämnet."
"Elsa Brandstake har redan förut ett namn med god klang på handarbetets område och hennes nu föreliggande bok gör ett i allo tilltalande intryck."
Stjärna i frivolitet, från bokens sida 201. Originalmönster från Ablum de Frivolité av Madame Hardouin.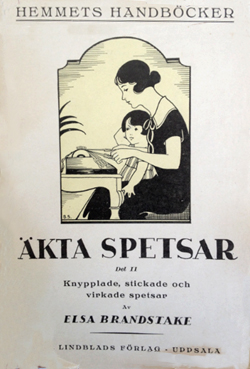 Äkta spetsar Del II, Knyppling, virkade spetsar, (guipure d'Irlande) stickade spetsar – Hemmets Handböcker del 9:2 (J. A. Lindblads förlag, Uppsala, 1925)

Alla artiklar var inte odelat positiva. Elisabeth Thorman skriver i en artikel i Svenska Dagbladet 26 juli 1924 om den flod av handböcker i ämnet virkning och stickning som ges ut under den tiden, och hon undrar hur alla dessa ska böcker rymmas i den arma husmoderns begränsade bokhylla!

Elsas böcker däremot gillar hon, de beskrivs om "vederhäftiga och förträffliga" och kan "varmt anbefallas"!
Jag hoppas att ni tyckt om att få veta mer om Elsa Brandstake och hennes publikationer.
/Anita
Källor:
Födelsebok, Mosaiska församlingen, Stockholm 1866, 1868, 1873, 1874, 1876, 1878, 1879.
Vigselbok, Mosaiska församlingen, Stockholm 1865, 1870, 1898-1920.
Död- och begravningsbok, Mosaiska församlingen, Stockholm 1866, 1868, 1882, 1885, 1916.
Död- och begravningsbok, Hedvig Eleonora församling, Stockholm 1926.
Död- och begravningsbok, Kungsholm eller Ulrika Eleonora församling, Stockholm 1931 (SCB).
Sveriges Dödbok 1901–2013, DVD-ROM, Version 6.00, Sveriges Släktforskarförbund (2014).
Vem är det, svensk biografisk handbok, 1943 Nordisk familjebok, Marcus, 2. Karl Jakob 1904-1926.
Sverige, förteckning över emigranter, 1783-1991.
Skara högre allmänna läroverks lärljungar åren 1870-1910
Dagens Nyheter 1905-05-26, 1923-07-06, 1924-06-01, 1924-12-04, 1925-10-17, 1925-10-25, 1926-08-21
Svenska Dagbladet 1914-01-12, 1914-01-14, 1922-02-06, 1924-07-26
Tidningen Idun 1915-04-16, 1915-06-27, 1922-05-07,
___________________________________________________
IN ENGLISH
___________________________________________________
There has been so many amazing women who worked with textile crafts, and there is so little written about them. So little in fact, that one is amazed! I want to do something about that. So after writing about Augusta Abrahamsson, the author of the remarkable book Märkbok, and the very productive Sara Lawergren, the time has come to tell you more about Elsa Brandstake, the author of the book Äkta Spetsar (Real lace).
Despite doing a lot of research, I have found nothing written about her person. What I have found out, I know from reading old church records, scrolling through old newspapers at the Royal Library in Stockholm and reading articles about members of her family.
Elsa Brandstake was born as Elsa Fredrika Marcus on April 21, 1876, in the Jewish congregation in Stockholm. She was the daughter of silk fabric vendor Fredric Meyer Marcus (1835-1882) and his second wife Hilma Sofia Josephson (1849-1926). She came from a family with several prominent members, such as Elsa's uncle, the painter Ernst Josephson.
Her father was first married to a sister of his second wife, Gelly Josephson (1845-1868) but she died in childbirth when her daughter Gelly Ruth Hildegard was born in 1868. A son, Semmy Marcus, had before that died of diphtheria only one month old the same year.
In addition to her half-sister, Gelly, Elsa had four siblings. She had two older brothers, Karl Jacob Marcus (b. 1873) who became a doctor of medicine, and Nils Abraham (b. 1874) who was a merchant and died of lung disease in 1916 at age 32. Younger sister Signe (b. 1878) first married in 1900 with mountain engineer Claes Bolin (1875-1912) and secondly in 1914 with merchant Gustaf Uggla (b. 1865) of the noble Uggla family and a younger brother, Bengt Aron Marcus (b. 1879) died of tuberculosis five years old in 1885.
Elsa was only six years old when her father passed away of a cerebral haemorrhage in 1882. The mother never remarried, she supported herself and her children as a merchant.
Elsa studied lace stitching in the Deutsche Spitzenschule in Berlin, and she worked as a teacher in lace making, crochet and knitting. She married in 1905 with the physiotherapist Axel Jakob Brandstake (b. 1875) who was from Finland. They divorced in 1911, Axel returned to Finland where he died in 1916. They had no children and Elsa never remarried.
For several years Elsa was a writer for the magazine Vårt Hem (Our Home), where she wrote many articles on sewing, crochet, embroidery and fashion. She was recognized for her expertise and published several books on textile crafts.
Elsa Brandstake passed away in pneumonia only 55 years old July 12, 1931.
Read more about the Marcus family and the Josephson family in Swedish Biographical Lexicon (in Swedish only). Also in English: Ernst Josephson, Wikipedia
_____________________________
Advertisement for lessons in lace making in the Swedish newspaper Svenska Dagbladet 1914, and advertisement of classes in crochet and knitting in the same newspaper 1922.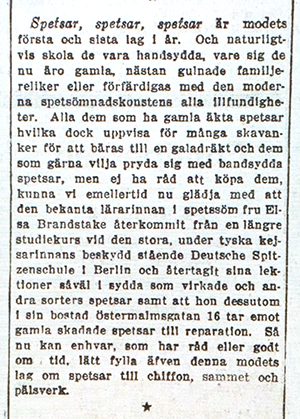 An article in the same newspaper in 1914 where it is said that the well-known teacher in lace making Elsa Brandstake has again started to give lessons after her training course in Berlin.
Article from the newspaper Dagens Nyheter (Daily News) August 21, 1926.
Elsa travelled to Berlin and Paris, och she got lots of inspiration from her travels. Interestingly, already in 1926 it was common to travel to Paris by aeroplane.
The article is an excerpt from another article in the magazine Vårt Hem (Our home). A sample of the fashion in 1926 "A comfortable autumn attire of small checked wool in grey and beige brown."
Elsa wrote many articles in this magazine, from it was founded in 1921 in almost every issue. Below is an example from 1921, where she tells us that summer hats in 1921 should be "airy and light, graceful and colorful". Paris fashions, after "six long years of war with dull and dark colors, now seems seriously keen on revelling in strong and brilliant colors".
Article from the magazine Idun April 16 1922. Elsa participated in a contest by making not just a crochet hat in brown with wool flowers in bright colors but also a great everyday dress in blue and black. The skirt with thin stripes of blue and grey-brown, with crocheted ruffles around the neck and arms, and a belt with tassels. For this, she won a price: The remaining of this year's issues of the magazine. Click here if you want to read the entire edition of the magazine.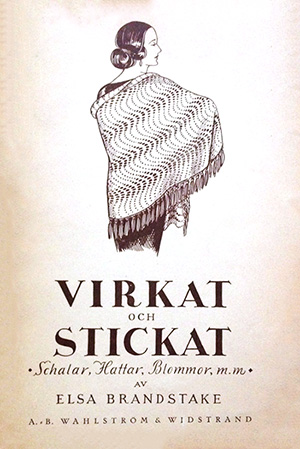 Crochet and knit
, Shawls, hats and flowers etc. (AB Wahlström and Widstrands publishing company, Stockholm, 1923). Elsa's first book, containing patterns on knitted and crocheted garments such as shawls, vests, scarves, ladies gloves, slippers and hats but also examples of what you can do with yarn leftovers: flowers and leaves.
Some patterns in the book are still relevant today! This example from page 59-60 of the book.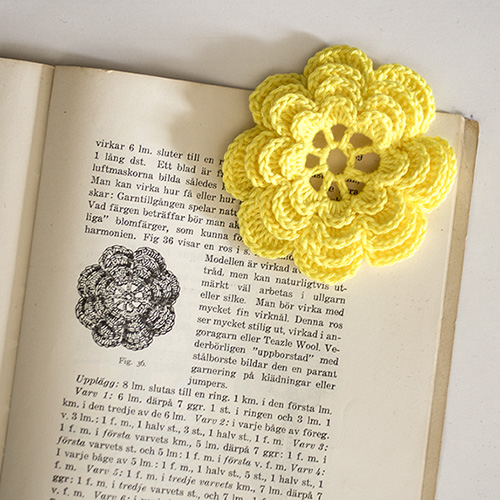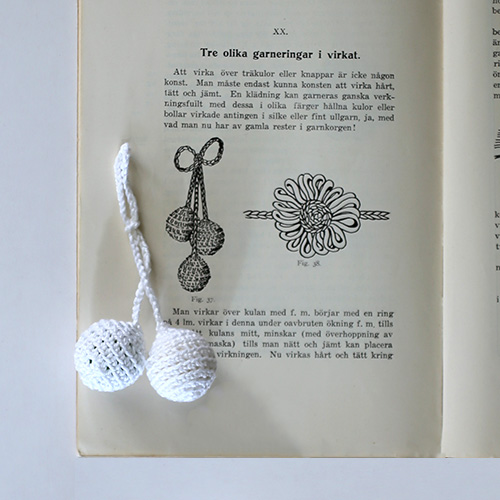 "Crocheting over wooden beads or buttons is easy enough. One must only know the art of crocheting tightly, firmly and evenly."
Childrens clothes, crocheted and knitted
– Hemmets Handböcker part 6 (J. A. Lindblads publishing, Uppsala, 1924). Contains patterns of socks and stockings, bibs, mittens and hats, dresses, suits and pants but also somewhat odd things like girdles and bandages for the baby.
The signature M. S. in this article in Dagens Nyheter June 1 1924, has perhaps a little aloof attitude to Elsa's craze for knitted and crocheted baby clothes. "Knowing how crocheted and knitted clothes look like after a relatively short time, one cannot completely agree with the author's warm hope that they can be manufactured and used indefinitely. "
Real lace, Part I. Knotted and strung (filet) lace, sewn lace and tatting.
Containing chapters on the history of lace, knotted and strung lace, sewn lace and tatting.
Advertisement for the book: "A nice textbook, that will be interesting to all lace-making ladies. Certainly, it will also win new friends for the beautiful, noble art called Real lace. The author has explained the craft as clear and simple as is possible."
"Real lace is an entertaining, interesting and very useful book."
The article also mentioned that Elsa was well known for her skills.
"Now it is in the nature of things that the female audience is especially interested in the subject, and this even more so since it is Elsa Brandstake who is the one lecturing on the subject of lace."
"All information is robust and reliable, this is ensured by the author's name and great insights on the subject."
"Elsa Brandstake has already made herself a good name in the area of handicraft, and her new book gives a pleasing impression."
Tatted star from the book, page 201. Original pattern from Album de Frivolité by Madame Hardouin.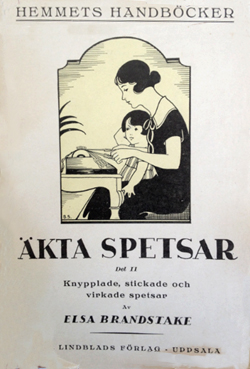 Real lace part II. Bobbin lace, crochet lace (guipure d'Irlande) knitted lace. (J. A. Lindblad's publishing company, Uppsala, 1925)

All articles were not entirely positive. Elisabeth Thorman wrote in an article in the Swedish newspaper Svenska Dagbladet on July 26 1924, about the flood of books published on the subject of crochet and knitting during this time, and she was wondering how all these books will fit in the poor housewife's limited bookcase! Elsa's books, however, she likes. They are described as "robust and excellent" and can be "warmly recommended".
I hope you have enjoyed knowing more about Elsa Brandstake and her publications.
/Anita
Sources:
Birth records, Jewish congregation, Stockholm 1866, 1868, 1873, 1874, 1876, 1878, 1879.
Marriage records, Jewish congregation, Stockholm 1865, 1870, 1898-1920.
Death and burial records, Jewish congregation, Stockholm 1866, 1868, 1882, 1885, 1916.
Death and burial records, Hedvig Eleonora parish, Stockholm 1926.
Death and burial records, Kungsholm or Ulrika Eleonora parish, Stockholm 1931 (SCB).
Swedish Death book 1901–2013, DVD-ROM, Version 6.00, Swedish Genealogy Union (2014).
Who is who, Swedish biographical handbook, 1943 Nordic family book, Marcus, 2. Karl Jakob 1904-1926.
Sweden, records of emigrants, 1783-1991.
Skara higher general educational school disciples year 1870-1910
Dagens Nyheter 1905-05-26, 1923-07-06, 1924-06-01, 1924-12-04, 1925-10-17, 1925-10-25, 1926-08-21
Svenska Dagbladet 1914-01-12, 1914-01-14, 1922-02-06, 1924-07-26
Idun Magazine 1915-04-16, 1915-06-27, 1922-05-07,