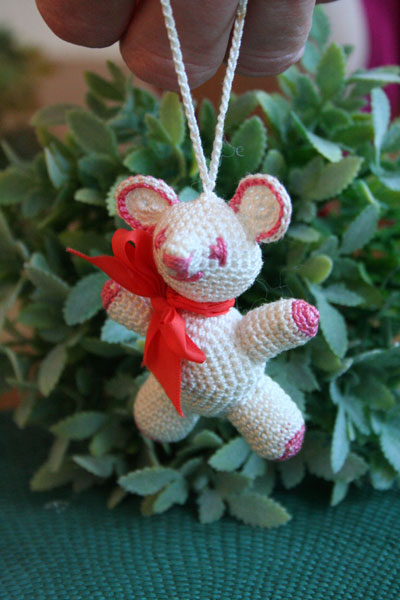 Små miniatyrnallar är otroligt roliga att göra, det utvecklar sig snart till en riktig passion! De första gjorda jag redan på 70-talet efter ett mönster som fanns i magasinet Sticka Virka Sy Nr 61 från Marks. Redan då fanns det virkade amigurumi, fast inget visste då att det hette så. Det mönstret var för en nalle som inte kunde röra armar eller ben.
Jag fick se fler av dessa söta små nallar på nätet och köpte ett virkmönster av Berta Hesen-Minten från Nederländerna, se hennes hemsida ThReAdTeDs. Mönstret är på engelska, men ändå lätt att förstå då det har utförliga instruktioner och bra bilder.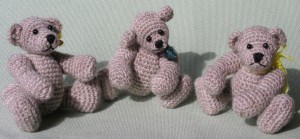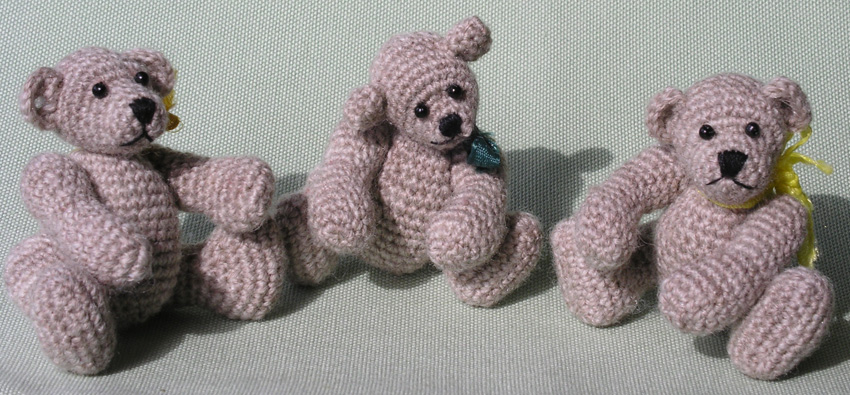 De första försöken slog inte så väl ut, men efterhand så gick det bättre och bättre. Övning ger färdighet. Sedan tyckte jag åtminstone själv att de började bli lite bättre, eller åtminstone sötare…
Nallarna är små, oftast inte större än 5-7 cm långa när dom står upp.
Om du skulle vilja prova att göra några sådana här själv, finns det flera mönster på nätet som är gratis. Några av dessa har den generösa designern Sue Pendleton gjort, och du kan ladda ner dem gratis från Ravelry. Är du inte medlem där, så bli det! Där finns det massor med bra mönster!
Och sedan kom den som jag blev så nöjd med att hon fick vara med i min i rubrikbilden på min blog. Och på den vägen är det…
Det här var ett försök att återskapa Alice i underlandet och den stressade kaninen, men då förstås med Alice i skepnaden av en björn.
Zeb och Tigris gjorde jag i present åt en mycket kär person.

På nallen med gula kläder är kläder, stövlar och paraply är min egen design, medan själva nallen är gjord efter Berta Hesen-Mintens mönster. Kläderna och stövlarna är avtagbara, jackan har små fickor fram och knappar med knapphål. Hunden är ett helt eget påhitt, kroppen är stickad medan huvud och ben är virkade.
Gruppen ThreadAnimals hade en tävling 2008 som gick ut på att alla medlemmar skulle virka en nalle och en docka från samma mönster, som Berta Hesen-Minten gjort. Uppslutningen var rekordstor, säkert över 100 bidrag. Min skapelse vann tredje pris, en nalle-virknål i brons! (Jodå, jag är mallig!)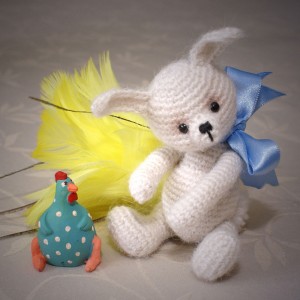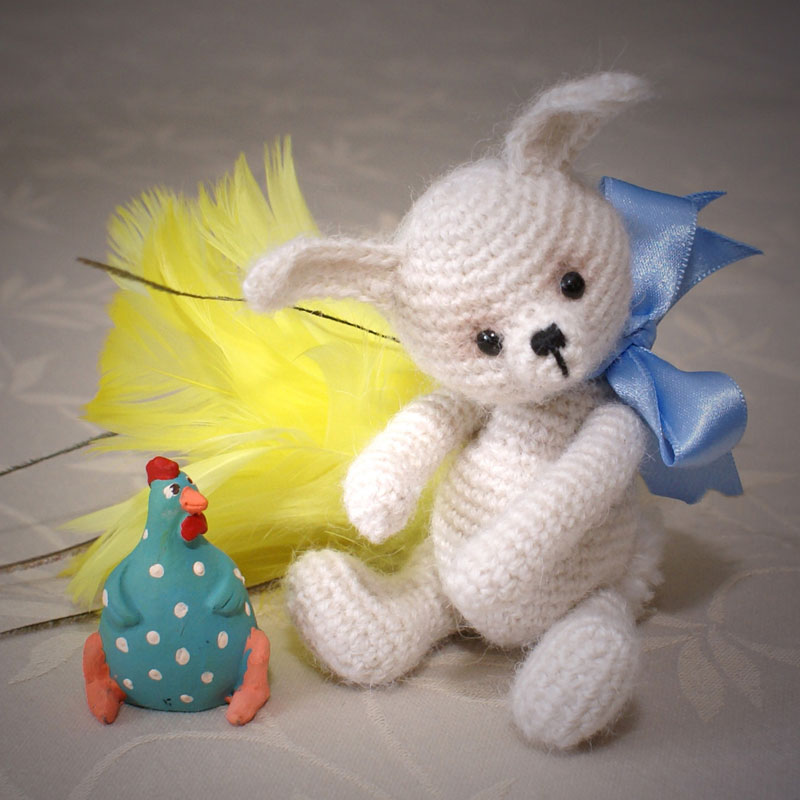 Lilla kaninen här är gjord för ThreadAnimals tävling HOPP 2011, där alla som deltar virkar en kanin från samma mönster, som Joanne Noel har gjort och gratis delade med sig av. Jag hade turen att vinna delat första pris med den här! Se Joannes blog här: Bayou Bears
…och så vidare. Det är väl ett hundratal redan och fler lär det bli.

It is so much fun not only to crochet small bears, but also dolls! I don't think I will ever grow too old for dolls…
Mini Free Spirit:
The pattern for these dolls is designed by the generous, productive and very talented Beth Webber from Indiana, USA. Not only does she design patterns for crochet dolls, but also doll houses, furniture and much more.
She has a lot of free patterns for both dolls and dolls clothes, see her blog By Hook, By Hand.
The green dress above is crocheted with the thread DUNE from SIRDAR.
The dresses are adapted doily patterns, and the one to the right is embroidered with flowers in pink and green.
These are crocheted in cotton thread 8/4 using crochet needle Boye number 8 (1,5 mm). I use a smaller needle than recommended for the thread because I want the stitches to be so tight that the stuffing doesn't show in between. The arms and legs contain pipe cleaners so they are bendable. Not too many times though, as the pipe cleaner will break eventually. But on the other hand; these dolls are not toys to play with. If you make them for a small child, leave out the pipe cleaner.
The eyes are 4mm button eyes. The clothes are mostly my own design.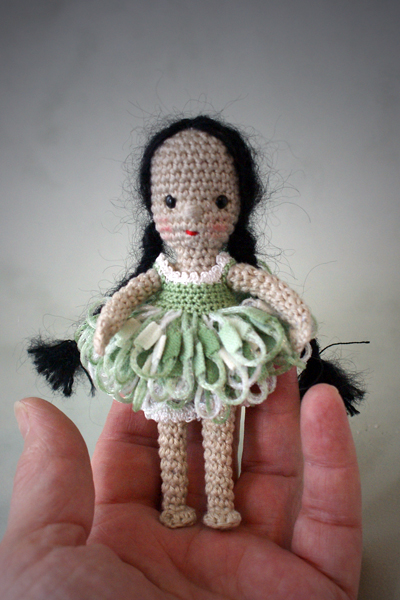 This is how small they really are…