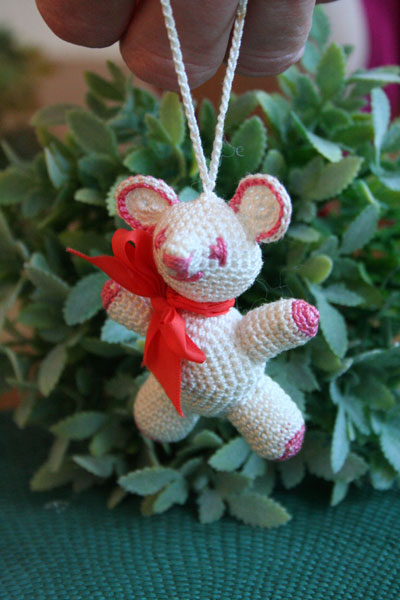 Small miniature crochet bears are great fun to make, and soon develops into a real passion!
The first ones I made was at the beginning of the '70s, from a pattern found in the Swedish magazine Sticka Virka Sy No 61 from Marks. It was a pattern for a bear that didn't have jointed arms and legs.
I got to see more of these cute little teddies on the internet, and bought a crochet pattern by Berta Hesen-Minten from the Netherlands, see her website ThReAdTeDs. The pattern is easy to understand with clear instructions and many pictures.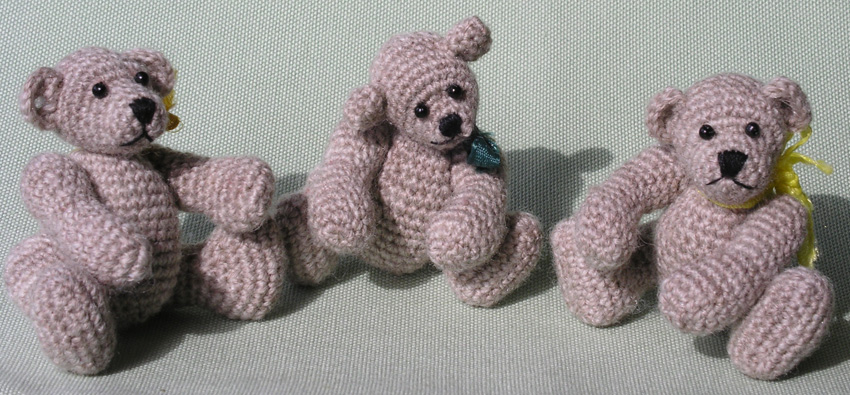 The first attempts to make a bear I was not too pleased with. After a while, I was able to make them look better, or at least cuter.
The bears are small, often no taller than 5-7 cm (1,97″ – 2,76″) standing.
Should you want to start making these bears, there are several free patterns on the internet as well. Some of them are designed by the generous and talented Sue Pendleton, and they are free to download from Ravelry. If you are not a member there yet, do get a membership! There are lots and lots of great pattern there.
Finally, I made one I was so pleased with, that I integrated her in my banner. And then they haven't stopped coming…
This was an attempt to re-create Alice in the Wonderland with the little rabbit. Alice in the shape of a bear, of course.
Zeb and Tigris was created as a gift for a very dear person of mine.
For the bear in yellow clothes, the clothes and boots are my own design, while the bear itself is from Berta Hesen-Mintens pattern. The clothes and the boots are all removable, the jacket has little pockets in front and real buttons and buttonholes. The dog is my own design, the body is knitted while the head and the legs are crocheted
The TreadAnimals group had a challenge in 2008, that meant all participating members should crochet a bear and a rag-doll from one and the same pattern, provided by Berta Hesen-Minten. The number of participants was really high, well over 100 persons attended. My creation won third price, a bear bronze crochet hook!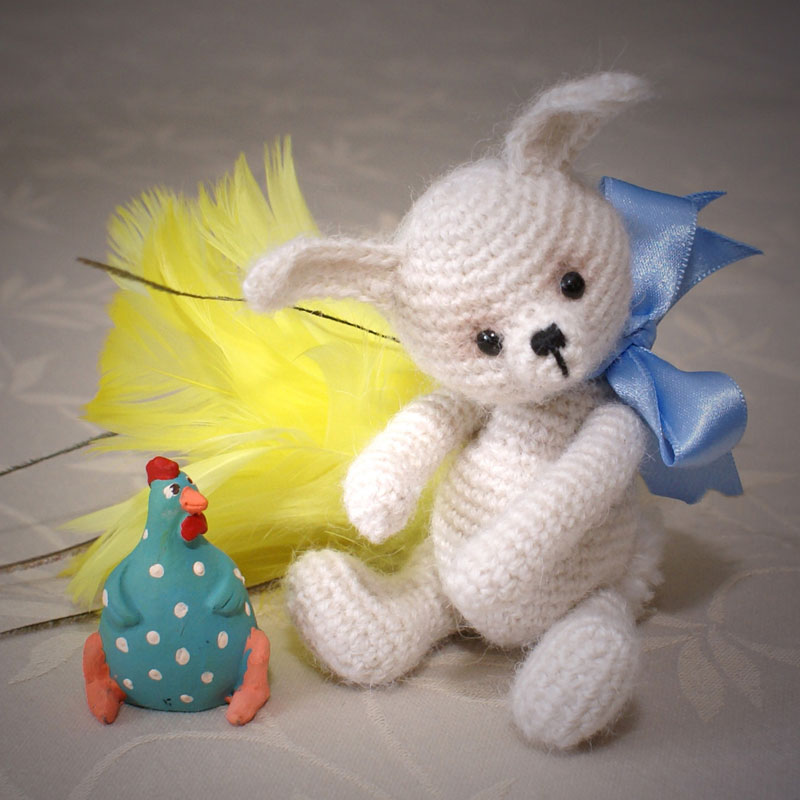 The little bunny was made for the TreadAnimals challenge HOPP in 2011, where all participants were to crochet a bunny from the same pattern designed and provided for free by Joanne Noel. I was lucky enough to have mine voted for a shared first price! Happy dance!
See Joannes blog here: Bayou Bears
… and so on. They are well over a hundred now, and there are more to come.

It is so much fun not only to crochet small bears, but also dolls! I don't think I will ever grow too old for dolls…
Mini Free Spirit:
The pattern for these dolls is designed by the generous, productive and very talented Beth Webber from Indiana, USA. Not only does she design patterns for crochet dolls, but also doll houses, furniture and much more.
She has a lot of free patterns for both dolls and dolls clothes, see her blog By Hook, By Hand.
The green dress above is crocheted with the thread DUNE from SIRDAR.
The dresses are adapted doily patterns, and the one to the right is embroidered with flowers in pink and green.
These are crocheted in cotton thread 8/4 using crochet needle Boye number 8 (1,5 mm). I use a smaller needle than recommended for the thread because I want the stitches to be so tight that the stuffing doesn't show in between. The arms and legs contain pipe cleaners so they are bendable. Not too many times though, as the pipe cleaner will break eventually. But on the other hand; these dolls are not toys to play with. If you make them for a small child, leave out the pipe cleaner.
The eyes are 4mm button eyes. The clothes are mostly my own design.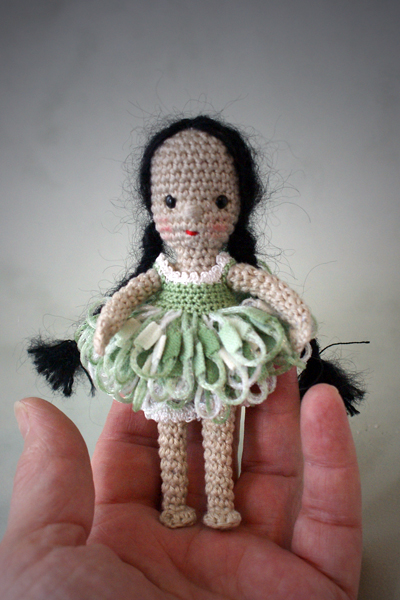 This is how small they really are…