Det var så roligt att virka möss efter det mönster som finns gratis på bloggen Pysselboa. Jag kunde inte låta bli att göra fler! Det är lite trixigt att göra svansen och benen eftersom de är så tunna, men samtidigt är det ju det som gör att musen blir så lik en mus. Garnet jag använde var DROPS Alpacka, och morrhåren har jag gjort av en bit av gubben min's fiskelina! Ögonen kommer från Make&Create och är deras 5 mm knappögon.
Eftersom det är piprensare i armarna, fötterna och benen är det lätt att få musen att stå i olika positioner. Den bruna musen här har fått en klänning som är en variation på mitt mönster som finns att ladda ner från min sida här.
It was such great fun to crochet mice from the Swedish pattern that is available for free on the blog Pysselboa. I could not resist making more. It is a bit tricky to crochet the legs and the tail because they are so thin, but at the same time, it is also what makes the mouse look so much like a mouse. The yarn I used was DROPS Alpaca, and the whiskers I made using a piece of my hubby's fishing line! The eyes come from Make&Create, and is their 5mm button eyes.
Since the feet, legs and arms contain pipe cleaners it is easy to make the mouse stand in different positions. The brown mouse got a crocheted dress that is a variation of my design that is available for download here.

Om du vill använda något av mina gratismönster, eller om du laddar ner musmönstret från Pysselboa's sida, skänk gärna en slant till hennes eller min insamling till Barncancerfonden eller Cancerfonden. Även små bidrag gör nytta!
If you want to use any of my free patterns, or if you decide to download the free pattern from Pysselboa's blog, please give a small contribution to her or mine collection to the Children Cancer Foundation, the Cancer Foundation or any other collection of your choice. Even small contributions do make a difference!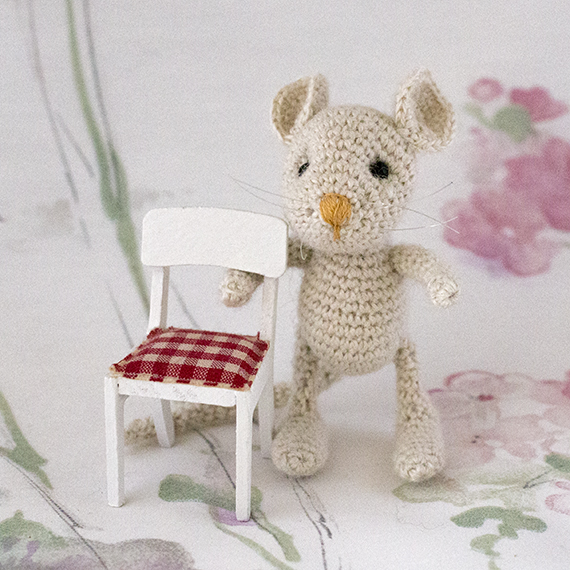 New comment August 29 2015: The designer Irene Holmgren from the blog Pysselboa has been kind enough to grant me permission to translate her cute crochet mouse pattern into English and to share it on my blog.
It is very much appreciated if you left a comment on her blog post if you download this pattern, and encourage others to also make a contribution to the fight against cancer. Click on: Pysselboa blogpost.
You can now download the pattern as a pdf here or from my free patterns page.