Virkad sommaräng / Crochet summer meadow
När jag virkade klockorna till mina barnbarn, blev jag också förtjust i att virka blommor! De blir så söta, går snabbt att göra, kan varieras hur mycket som helst och kan användas till precis vad som helst. Ett perfekt sätt att använda alla små bitar av tråd som blir över. Det var svårt att sluta när jag väl börjat, det blev till slut en hel sommaräng!
Mönstret som jag tyckte bäst om är från Molly Makes, och där finns utmärkt mönster och vägledning på hur man gör.
When I made the crochet clocks for my granddaughters, I became so fond of making those small crochet flowers. They were so cute, quickly made, could be varied a numerous ways and can be used to just about anything! A perfect way of using all those little bits of left over threads. It was hard to stop once I got started, it eventually became an entire summer meadow!
The pattern I liked best is from Molly Makes, where you find not only the pattern but also an excellent tutorial.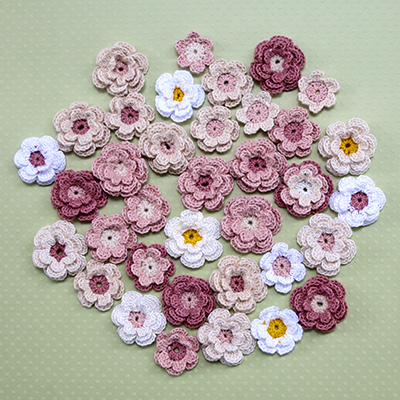 Mönstret i svensk översättning:
Förkortningar: lm=luftmaska, sm=smygmaska, st=stolpe,
Varv 1: 3 lm
Varv 2: 11 st i tredje lm från nålen, slut till en ring med 1 sm i första st (=12 st i ringen)
Varv 3: *(2 lm, 1 st) i första st, (1 st, 2 lm, 1 sm) i nästa st*. Upprepa ** 5 ggr.
Om du vill göra en liten blomma slutar du virka efter varv 3.
Varv 4: Dra igenom garnet så att du är på baksidan av blomman. Gör 1 sm mellan den sista och första blomman. (4 lm, 1 sm mellan nästa blad) Upprepa 5 ggr och avsluta med sm i första sm. Du har nu sex luftmaskbågar.
Varv 5: (2 lm, 3 st, 2 lm, 1 sm) om luftmaskbågen. Upprepa  5 ggr.
Om du vill göra en mellanstor blomma slutar du virka efter varv 5.
Varv 6: Upprepa varv 4, men gör 5 lm istället för 4 lm.
Varv 7: Upprepa varv 5 men gör 4 st istället för 3 st.
Om du vill kan du göra ännu fler varv, genom att upprepa varv 4 och 5, men öka antalet luftmaskor och stolpar med 1.
Det går också utmärkt att göra en blomma med bara fem blad genom att minska antalet stolpar på andra varvet till 10 och upprepa fyra istället för fem gånger på de övriga varven.
Du byter färg när du vill. Hur du gör finns det en bra video som visar här. De lösa trådändarna virkar du över, så slipper du fästa dem senare.
The pattern in English can be found at Molly Makes.
There is an excellent video showing how to change colors here.
If you like you could easily make more rounds of petals by repeating round 4 and 5 but increase the number of ch and dc by one. You can also make a flower with only five petals on each round by making 10 dc on round 2, and repeating the pattern four instead of five times on the remaining rounds.


Blommor med en, två och tre rader blomblad.
Flowers with one, two and three rows of petals.