Virka bläckfiskar / Crochet octopuses

Helena på Craft & Creativity tipsade mig om att det på Babydjungel finns ett upprop att virka bläckfiskar till för tidigt födda barn. Bläckfisken ger trygghet till de små då armarna påminner om navelsträngen och därmed om tiden i magen. Det ger även tröst till föräldrarna som vet att det finns någon som tänker på dem och som gjort en bläckfisk för att just deras barn ska känna trygghet.
En alldeles underbar idé tycker jag att det här är, omöjlig att motstå!
På Babydjungel hittar du instruktioner, utförlig beskrivning och till och med en virkskola. Så nu är det bara att sätta igång!
Bläckfiskarna ska vara gjorda av bomull, och jag hade lite grönt (såklart!) bomullsgarn storlek 8/4 hemma.
Det blev en liten bläckfisk-pojke och en bläckfisk-flicka, båda är nu på väg till ambassadören som sedan tvättar, packar och skickar dem till neonatal-avdelningen!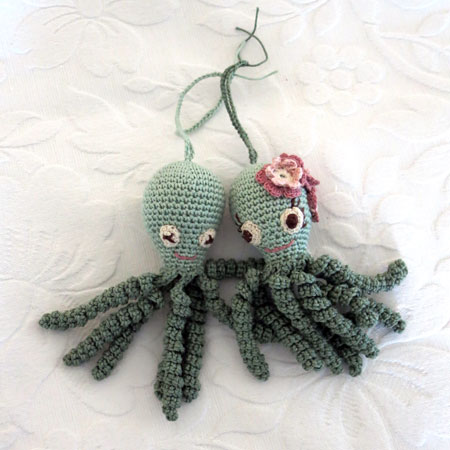 On Babydjungel there is a petition to crochet octopuses for premature babies. Octopuses provides security for the baby since the arms reminiscent of the umbilical cord and thus the time in the stomach! It also gives comfort to the parents who know that there is someone out there who care about them enough to crochet an octopus to make their particular child feel secure.
A truly wonderful idea, impossible to resist!
On Babydjungel there are instructions, pattern and even a crochet school, all that is needed to get started. It is in Swedish only but wouldn't this be a wonderful idea to import everywhere?  
According to the instructions, the octopus must be washable in warm water and the arms can be no longer than 20 cm (7,87") in stretched condition. The material must be cotton since the yarn may not be sketchy because then the kids can get it in their lungs. The finished octopus is sent to the volunteer ambassadors who takes care of washing all the octopuses sent to them, pack them and send them onto the neonatal ward. My contributions are now on the way!