Nytt mönster – Virkad Babydocka
New pattern – Crochet Baby doll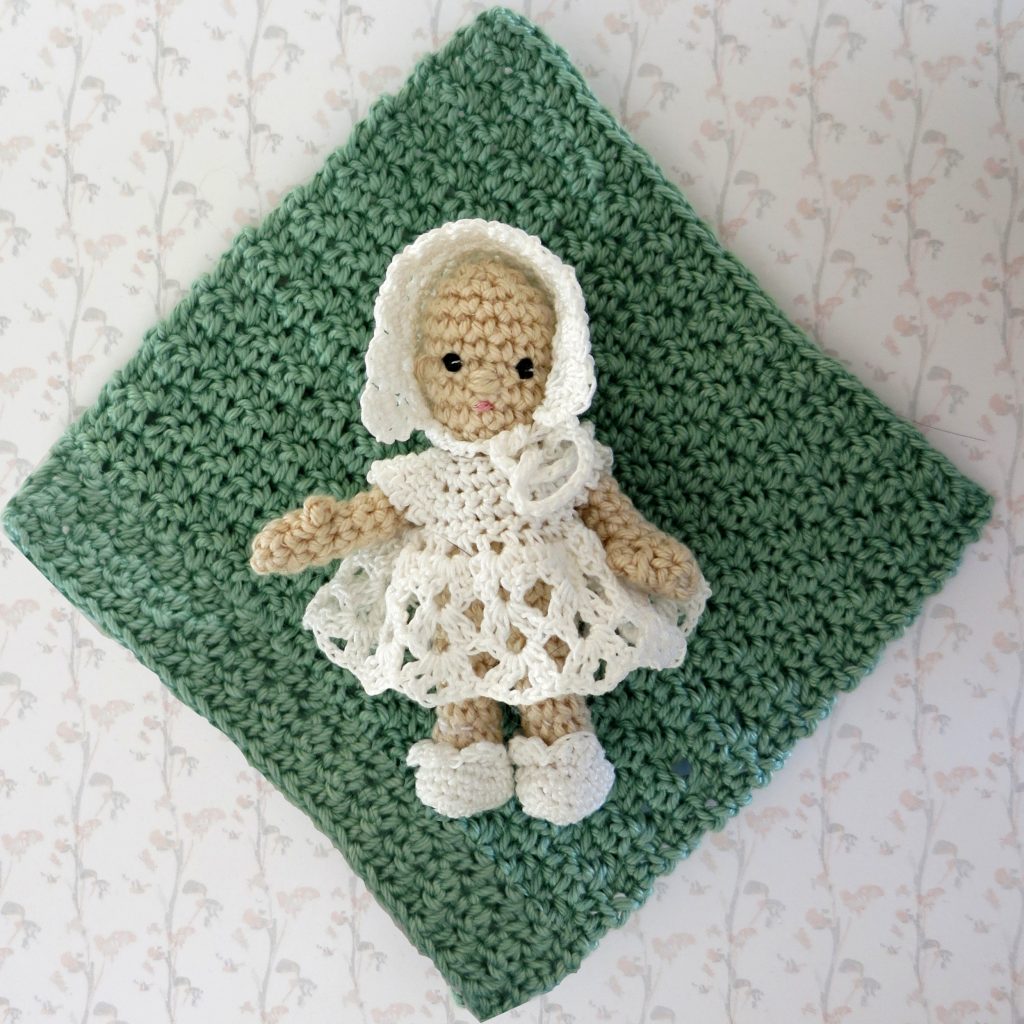 Ett år efter att jag bröt min högra handled och fick problem med att virka är jag äntligen återställd och full av inspiration! Bröt handleden? Ja, det var mitt eget fel: jag är över 60 men i sinnet är jag en tonåring och tror att jag kan komma undan med allt en tonåring kan 🙂
Här är mitt nya mönster på en babydocka, den första i en serie med dockor som väntar på att bli klara. Mönstret består av docka, klänning, mössa, skor, korg, kudde och filt.
Hon är virkad i bomullsgarn 8/4 med virknål 1,5 mm och blir då 7,5 cm hög.
Du kan använda t.ex. Järbo 8/4, Jasmine 8/4 från Kinna Textil eller liknande.
Det går inte åt mycket garn, bara c:a 10 gram så det här är ett perfekt projekt om du har restgarn av bomull hemma. Till filten går det åt lika mycket och till korgen det dubbla, c:a 20 gram.
Kläderna är virkade i bomullsgarn storlek 10, DMC Cebelia, Järbo Viol, Marks Grandi eller liknande.
Även där är åtgången inte mycket.
Hon är lite pillig att göra eftersom hon är så liten. Men visst blir hon söt? Jag hoppas du tycker om henne! Mönstret finns att köpa i min Etsy shop och på Ravelry.
One year after I broke my right wrist and got trouble crocheting, I'm finally recovered and full of inspiration. Broke my wrist? Yes, it was my own fault. I am over 60 years old but in my head I am still a teenager and believe I can do all the things a teenager gets away with 🙂
Here is my new pattern of a baby doll, the first in a series of dolls waiting to be done. The pattern consists of doll, dress, hat, shoes, basket, pillow and blanket.
She is made of cotton thread 8/4 with hook size 1.5 mm and she is 7.5 cm tall.
Not much thread is consumed, just about 10 grams, so this is a perfect project if you have left over cotton yarns at home.
The blanket requires the same amount, and the basket twice as much, about 20 grams.
The clothes are crochet in cotton thread size 10, DMC Cebelia, DMC Babylo or similar. Here also there is not much thread consumption.
She is a bit tricky to do as she is so small. But she is really cute, don't you think? I hope you enjoy her! The pattern is available in my Etsy shop and on Ravelry.