Fler loppisfynd – More flee market bargains
Sommar är rätt tid för loppis och auktioner! Jag hoppas kunna besöka flera i sommar och fynda!
Summer is the right time for flee markets and auctions! I hope to visit several this summer and pick up bargains! 
Nedan är några fynd från mina samlingar. Alla var jättebilliga, 5-10 kronor styck! Jag ville tvätta dem, flera av dem var ganska gula från början. Duken nedan var riktigt gul men tyvärr tänkte jag inte på att ta en bild så man kan jämföra före och efter. Jag var mer koncentrerad på att hitta rätt tvättmetod.
Below are some bargains from my collections. They were all so cheap, 5-10 SEK each (approx. 1-2 USD or 0,5-1 EUR)! I wanted to wash them, several of them were quite yellow to start with. The doily below was really yellow but unfortunately I did not think to take a picture so you can compare before and after. I was more concentrated on finding the correct way to wash them.
Varje ruta på duken är bara 6×6 cm.
Each square on the doily is only 2 1/3"
Ett vet jag: Klorin är absolut förbjudet! Det har jag försökt en gång förut och lyckas totalförstöra en duk i frivolitet som blev så skör att den gick sönder bara jag tog i den. Dessutom ville jag inte använda något som dessutom var tveksamt miljömässigt.
One thing I do know: Chlorine is strictly forbidden! I have tried once before to bleach a tatted doily by using chlorine and managed to completely destroy it since it became so fragile that it fell apart just by touching it. Also, I wanted to use something that is a bit more environmental friendly.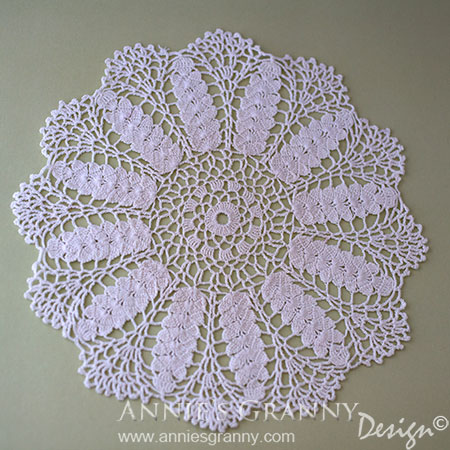 Det finns massor med råd på nätet om hur man ska göra. Blekmedel, bikarbonat, citron, bleksalt, vanligt tvättmedel, hundschampoo, salt och en hel del andra kemiska preparat jag aldrig hört talas om!
Jag provade att blötlägga dukarna i hett vatten i några timmar i vanligt vittvättmedel, och därefter tvätta dem i 60 grader i tvättmaskinen. Resultatet blev riktigt bra. Den duk som var mest gul blev inte helt vit, lite mer som ljust gräddvit men jag tycker det duger långt. Det är bara när man jämför med något annat som är kritvitt som man ser att den inte är helt vit. Det kan den nog inte bli, tror jag. Möjligen om jag låter den ligga i solen under några dagar.
There is plenty of advice online about how to do this. Bleach, baking soda, lemon, bleaching salt, regular detergent, dogschampoo, salt and a lot of other chemicals I've never even heard of!
I tried soaking the cloth in hot water for a few hours with ordinary white wash detergent, and then wash it at 60 degrees in the washing machine. The result was really good. The doily that was the most yellow didn't become completely white, but a little more like a light cream color but I think it will do. It's only when you compare it to something else that is pure white that you see that it is not completely white. But then again I don't think it will ever be. Possibly if I let it lie in the sun for a couple of days.
Det här är en vacker duk med ett ovanligt mönster.
This is a beautiful doily with an unusual pattern.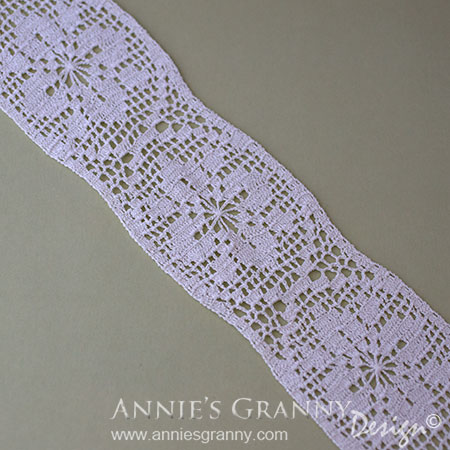 1 meter spets, bredd 5,5 cm. Kommer antagligen från eller är tänkt till ett gammalt lakan från början.
40" lace, 2 1/6" wide. Probably coming from or meant for an old bed sheet from the beginning.
Fantastisk spets, bara 1,5 cm bred. Den måste ha virkats i en mycket tunn tråd, 80 eller tunnare.
Fantastic lace, only 3/5" wide. It must have been made using very thin thread, size 80 or thinner.
Det här är väl en söt spets, eller hur?
This is a cute lace, don't you think?