Böcker i miniatyr – Skala 1:12
Miniature books – Scale 1:12
For English, please scroll down.
I mitt dockhus finns det såklart ett bibliotek/arbetsrum. Jag har alltid läst en massa böcker, så givetvis måste det finnas en massa böcker också i min miniatyrvärld! Små böcker är jätteroliga att göra, och det är inte särskilt svårt heller. Med en skrivare och bra skrivarpapper kan man skriva ut ark med böckernas pärmar och inlagor och sedan skåra, skära, vika och limma och vips! har man en massa böcker! Med min beskrivning och mina mallar som nu finns som nedladdningsbar PDF i min Etsy shop kan du skapa precis hur många böcker som helst.
Mallarna är för två olika storlekar på böcker. En mindre 11×16 mm (verklig storlek 132×192 mm) och en lite större 11,67×17,92 mm (verklig storlek 140×215).
Pärmarna är både vintage/antika och moderna med olika titlar från Nobelpristagare, hela 84 stycken olika bokomslag.
Inlagorna är i tre olika varianter, med vita försättsblad, mönstrade och färgare försättsblad, och med ljusbrun/bruna försättsblad och sepiafärgare papper för den där äkta antika looken. Samtliga inlagor har text, men den är för liten för att vara läsbar. Du kan kombinera inlagor med pärmar precis som du vill.
Det ingår också en mall för att skära ut små kartongbitar som ska förstärka pärmarna, och med den blir alla små kartongbitar exakta och du behöver inte efterjustera någonting.
Allt du behöver för att kunna göra böckerna är skrivare, papper, rakbladskniv, blyertspenna, limstift och stållinjal. En skärmatta är såklart praktiskt att ha också.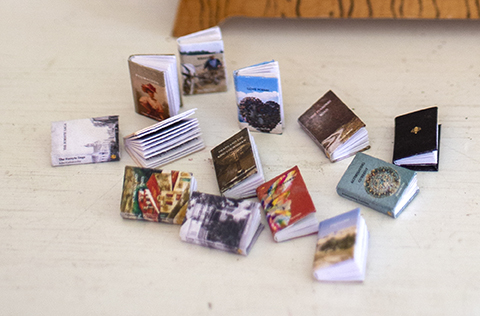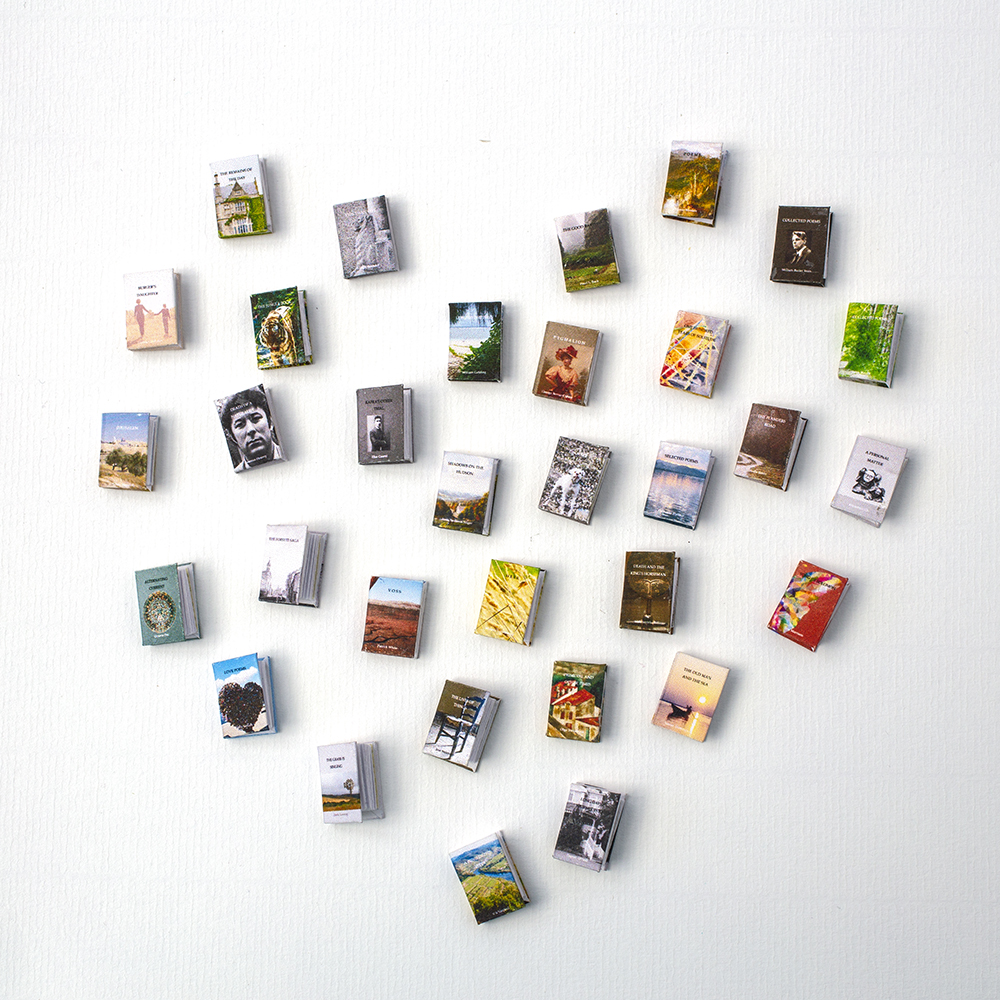 — English translation —
In my dollhouse, there is, of course, a library/study room. I've always read a lot of books, so there must be a lot of books in my miniature world too! Small books are great fun to make, and it's not very difficult either. With a printer and good quality printer paper, you can print sheets with the books' covers and inserts and then score, cut, fold and glue and in no time you have a lot of books! With my tutorial with templates that are now available in my Etsy shop as a downloadable PDF, you can create just as many books as you like.
The templates are for two different sizes of books. A smaller 11×16 mm (actual size 132×192 mm) and a slightly larger 11.67×17.92 mm (actual size 140×215).
The covers are both vintage/antique and modern with different titles from Nobel laureates, as many as 84 different book covers.
The inserts are available in three different variants, with white endpapers, patterned and colored endpapers, and with light brown/brown endpapers and sepia-colored paper for that genuine antique look. All text blocks have text, but it is too small to be readable. You can combine inserts with book covers as you like.
The PDF also includes a template for cutting out small cardboard pieces that will reinforce the covers, and with it, all small cardboard pieces will be exactly the right size and there is no need for trimming.
All you need to do the books is a printer, paper, box cutter knife/precision knife, glue stick, pencil and steel ruler. Of course, a cutting mat is handy to have as well.