Stickad nalle / Knitted bear
Att sticka är inte riktigt min grej, även om jag kan göra det. Jag är mer en virkperson. Men en gång jag ville i alla fall prova att sticka en nalle.
Den här stickad efter ett gratis mönster från Knitting Pattern Central, "Bitsy Bear" en design av Yvonne Boucher. För den som skulle vilja sticka en docka, har hon även ett annat gratis mönster, den urgulliga Amy Doll. Yvonne har också en hel del fina mönster till salu på sin Etsy shop, Yvonne Knits.
Istället för broderade ögon på nallen som det står i originalbeskrivningen så har jag satt dit svarta runda pärlor. Klänningen är en egen design.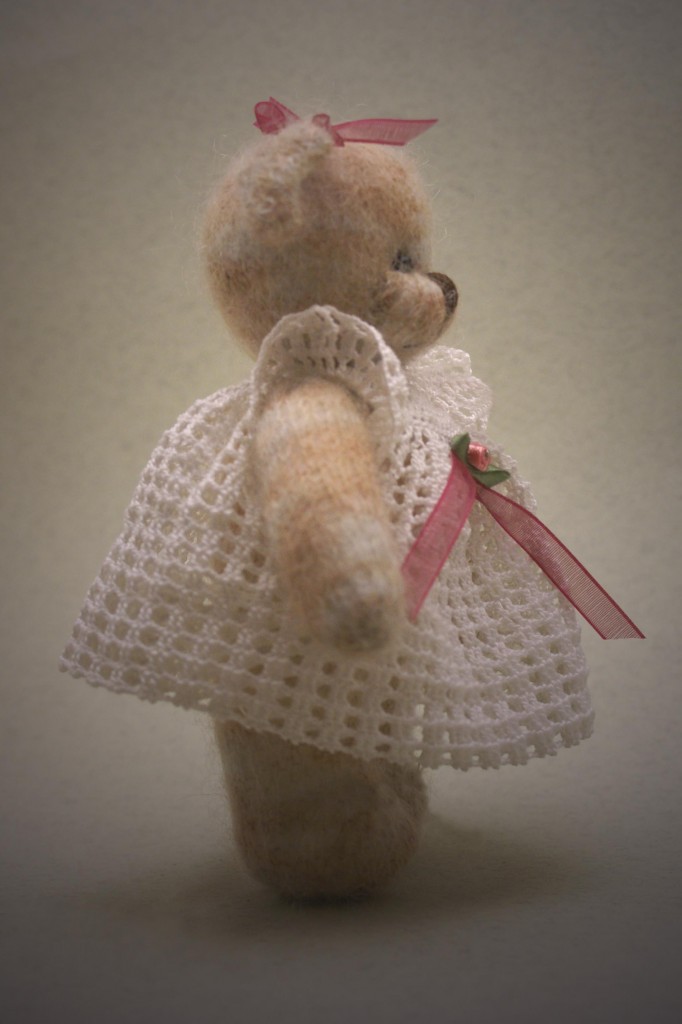 To knit is not really my thing, even if I know how to do it. I am more a crochet person. But still I wanted to try to knit a bear.
This one is knitted after a free pattern from Knitting Pattern Central, "Bitsy Bear", a design by Yvonne Boucher.
For those of you who would like to knit a doll, there is also another one of Yvonnes patterns for free, the adorable Amy Doll. Yvonne has also a lot of nice patterns for sale on her Etsy shop, Yvonne Knits.
Instead of embroidered eyes as described in the original pattern, I put in black round onyx beads. The dress is my own design.