Till mormor från Elin / To grandma from Elin
Visst är barnteckningar helt ljuvliga? Jag har sparat alla jag fått, och det är en riktigt skatt!
Min lilla dotterdotter Elin har ritat ett underbart porträtt av mig.
Jag kunde inte låta bli att försöka göra den levande genom att virka en docka efter hennes fina bild.
Aren't children's drawings absolutely gorgeous? I saved all I given to me, and it is a real treasure! My little granddaughter Elin has drawn a wonderful portrait of me. I could not help but try to make it live by crocheting a doll after her fine picture.
Jag funderade på hur jag skulle göra glasögon, och tänkte först på ståltråd, men dels hade jag ingen svart sådan hemma och dels trodde jag inte det skulle bli särskilt bra eller lätt att göra. Så jag virkade dem istället! Här är mönstret:
Virkade glasögon:
Jag använde svart björntråd och virknål Boye nr 15.
61 lm, 15 sm med början från 2:a maskan från nålen, 13 lm, hoppa över 13 lm, 4 sm, 13 lm, hoppa över 13 lm, 15 sm. Knyt en dubbelknut och klipp av tråden. Doppa allt i flytande stärkelse, forma genom att fästa glasögonen med knappnålar på en bit frigolit, låt torka. Klart!
I didn't know how to create the glasses, and at first I thought I could use black wire, but for one thing I had none at home and for another I didn't believe it would give a particularly good result or be easy to do. So I crocheted them instead! This is the pattern:
Crochet glasses:
I used a thick black sewing thread and a Boye no 15 crochet needle.
Ch 61, 15 sl st beginning from the 2nd stitch from the needle, ch 13, skip 13 st, 4 sl st, Ch 13, skip  13 st, 15 sl st. Tie a double knot and cut the thread. Dip the glasses in liquid starch, shape them  by  pinning them onto a piece of styrofoam, let them dry. Finished!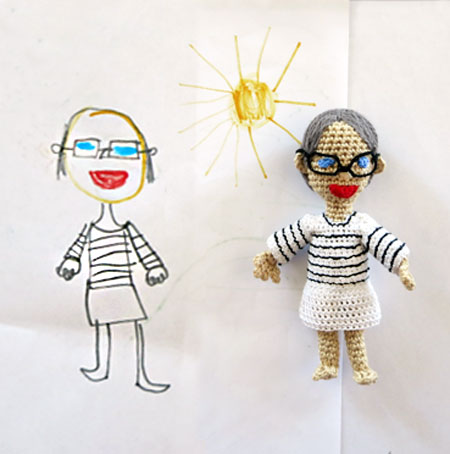 Bortsett från att vänster ben borde ha varit smalare än höger, tycker jag det blev rätt så likt! 🙂