Påskvantar
Easter mittens
Nu är påsken här! Påskliljorna och krokus blommar, björken har musöron, gräset är grönt och solen skiner! Njae, det är vad jag tror varje år att det ska göra till påsk, men istället är det snöblandat regn och kallt! Den enda vårblomma jag ser är snödroppar.
Även om det är kyligt vill jag vill ju ändå sitta ute de stunder som solen skiner, och eftersom jag är så frusen så jag gjorde mig ett par handledsvärmare, eller kanske jag kan kalla dem påskvantar?
Du hittar mönstret gratis här. Som vanligt får du använda mönstret fritt, men jag uppskattar mycket om du ger ett valfritt bidrag till min insamling för Barncancerfonden eller Rädda Barnen. Lämna gärna en kommentar här eller på min Facebooksida att du har gjort det, så uppmuntrar du fler att göra detsamma!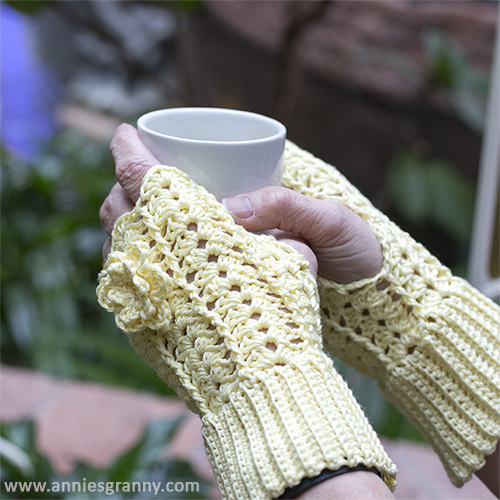 Now Easter is here! The daffodils and crocus bloom, birches has tiny leafs, the grass is green and the sun is shining! Nah, that's what I think every year that Easter should be like, but instead it is freezing rain and cold! The only spring flower I see is snowdrops.
Even if it is chilly, I still want to sit outside the moments when the sun is shining, and because I'm so frozen I made myself a pair of wrist warmers, or maybe I can call them Easter mittens?
You can find the pattern here for free. As usual, you can use the pattern for free, but I would very much appreciate if you donated an amount of your choice to a Cancer foundation, Save the Children or any other charity of your choice. Please leave a comment here or on my Facebook page that you did, to encourage others to do the same.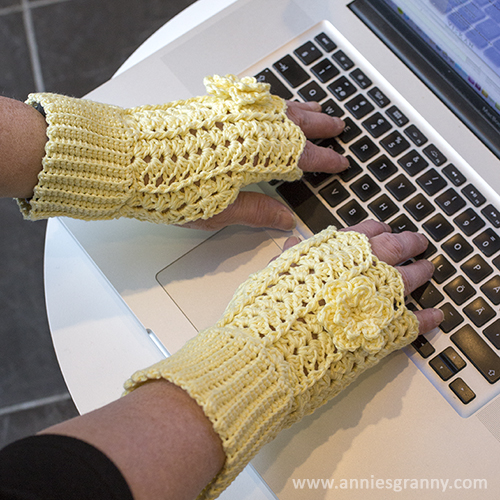 Det känns skönt att använda dem inne också, där kan det minsann också vara kallt!
It can be chilly indoors too!
Glad Påsk! Happy Easter!