Praktfull duk eller matta / Splendid doily or rug
Kolla in den här underbara mattan! Jag såg den på Pinterest (där man för övrigt kan sitta i timtal och bli inspirerad) och började söka efter mönstret. Just den här är bilden kommer från Babairisha, en kreativ rumänsk blogg som drivs av Irina Vorosjilov, men mönstret är en design av Patricia Kristoffersen. Mönstret heter Splendid. Enligt Ravelry skulle det finnas publicerat i American School of Needlework #1277, Wonderful Doilies, men överallt där jag kunde hitta den var boken slutsåld! Och jag var inte ensam om att fråga efter mönstret heller.
Check out this gorgeous rug! I saw it on Pinterest (where, incidentally, you can sit scrolling for hours and be inspired) and began to search for the pattern. This particular picture is from Babairisha, a creative Romanian blog run by Irina Voroshilov, but the pattern is a design by Patricia Kristoffersen. The pattern is named Splendid. According to Ravelry it was published in the American School of Needlework # 1277, Wonderful Doilies, but wherever I could find it the book was sold out! And I was not alone in asking for the pattern either.
Till slut hittade jag det som ett gratis (!) mönster på hennes egen hemsida, www.pkcrochet.com.
Fattar inte att det tog mig så lång tid att hitta den. Men innan jag hunnit skriva det här inlägget så var mönstret borttaget! Jag hoppas det finns tillgängligt igen senare, eller att boken kommer i nytryck. Det här är inte hennes enda design, hon har massor av ovanliga och vackra mönster!
Trish har också många instruktiva filmer på YouTube, som är båda instruktiva och intressanta.
Finally I found it as a free (!) pattern on her own website, www.pkcrochet.com.
I can not believe it took me so long to find it. But before I had time to write this post, the pattern was removed. Let's just hope it will become available again some day, or that the book will be reprinted. This is not her only design, she has designed lots of unusual and beautiful patterns.
Trish also has many great videos on YouTube, that are both instructive and interesting.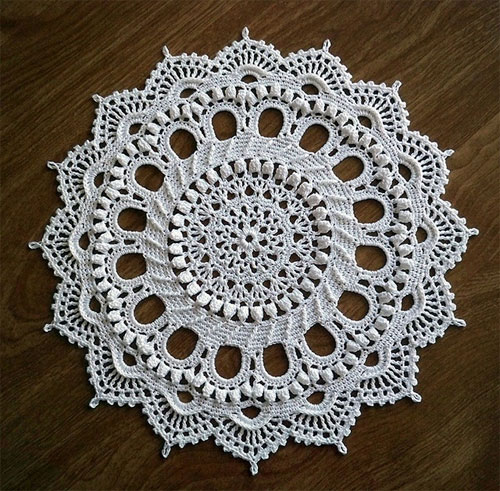 Bilden ovan från LaceCrochet på Flickr.
Visst är den något alldeles speciellt? Skulle passa alldeles utmärkt i mitt sovrum!
I väntan på att hitta rätt garn, (och mod att ta mig an ett så stort virkprojekt) gjorde jag den som duk istället. Nedan virkad i grön Cebelia 30.
Image above is from LaceCrochet on Flickr.
Isn'it something special? Would fit perfectly in my bedroom!
While waiting to find the right yarn, (and courage to take on such a large crochet project) I made the doily instead. Below crocheted in green Cebelia 30.
NYTT 2015-10-02 – NEWS 2015-10-02
Trish Kristoffersens mönster finns på hennes butik på Etsy, InThreadibleHome där de går att köpa och ladda ner som pdf.
Just detta mönster hittar du här.
Trish Kristoffersen's patterns can now be found in her Etsy shop InThreadibleHome and is available for instant download.
This particular pattern you can find here.