Virkad docka efter Beth Webbers mönster från ByHookByHand. Denna är virkad i bomullsgarnet Jasmine 8/4 från Kinna Textil och med virknål Boye nr 8. Hela dockan blev 11 cm hög.
Alla kläder är min egen design och virkade i rosa bomullsgarn "Silvia" nr 20 från Mönlycke som jag har kvar sedan förut. Tyvärr tillverkas det inte längre, men man kan ha tur och hitta det ibland på Tradera.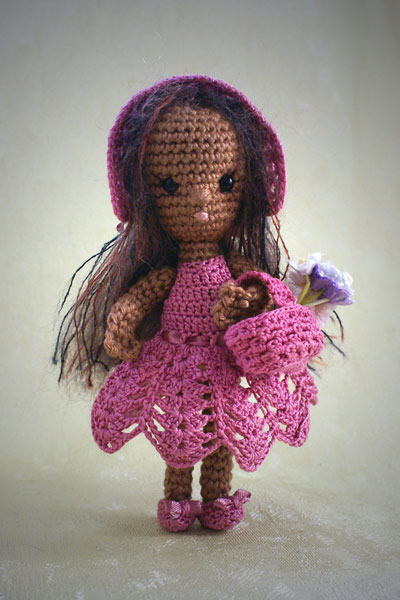 Crochet doll after Beth Webber's pattern at ByHookByHand. This one is crocheted in cotton yarn Jasmine 8/4 from Kinna Textil and with hook Boye no 8. The doll is 11 cm tall (4,33"). 
All clothes are my design and crocheted in cotton yarn "Silvia" no 20 from Mönlycke that I had left over from before. Unfortunately this yarn is not produced anymore, but sometimes one can get lucky and find it on auction sites like Swedish Tradera.