Virkarbetsplats – Crochet workplace
—–> For English – scroll down…
Det har funnits stunder då det varit både frustrerande och riskabelt att få inspiration att sitta ner och virka!
Sätta sig ner för att upptäcka att mönstret jag ville göra kunde jag inte hitta, garnet var någon annanstans (ingen aning var), virknålen hittar jag i alla möjliga storlekar utom just den jag tänkte använda och helt plötsligt upptäcker jag att all tid går åt till att leta grejer! Och hitta dem! Virknålen i matten eller ännu värre: I soffan! Oj, oj…
Helt klart var det här något som det måste göras någonting åt!
Först behövde jag ett virkfodral! Jag sorterade alla mina virknålar efter storlek och mätte ut ett hur djup varje ficka behövde vara och hur många fickor jag behövde. Fickan fick inte vara så djup att hela virknålen försvann, utan en bit skulle vara synlig. Jag behövde fem fickor med fem fack vardera, men det är ju alldeles individuellt: Om du vill göra en sådan här kanske du behöver fler, färre, större eller mindre fack.
En sak jag ville ha var en bit tyg som jag kunde lägga över nålarna, så att det inte händer någon olycka när små barn kommer och hälsar på. Och så ville jag kunna hänga den över en hylla eller ett bord så den alltid finns till hands men också lätt kunna ta bort den därifrån om jag behöver ta med mig hela samlingen någonstans.
För överhänget mätte ut lika mycket tyg till som själva virkfodralet och lade dessutom till några extra centimeter tyg på höger och vänster sida + sömsmån runt om innan jag klippte tyget.
Innan jag sydde de lodräta sömmarna för att skapa de individuella fickorna, sydde jag fast ett band rakt över varje rad och på det skrev jag vilken storlek på nål det skulle vara i varje fack. Ordning och reda, lätt att hitta!
För att det skulle se snyggt ut klippte jag ut en lika lång bit som det färdiga fodralet, lade räta mot räta och sydde ihop utom på ena kortsidan, vände rätsidan utåt, pressade och sydde den sista kortsidan klar. Då blev det inga fula synliga sömmar.
Jag hittade precis det bord jag ville ha på Ikea, rullbordet MOLGER. Det hade tre hyllor och hjul, så att man kan skjutsa bort det från soffan när man behöver göra plats för dammsugaren (alias gubben min). Jag gillade också kanten längst upp, som gör att jag kan ställa saker där utan att de ramlar av så lätt.
Backstycket på virkfodralet fick kardborreband så att det kunde hängas fast över träribban längst upp. Jag gjorde ett bakstycke som var lika långt som framstycket, men det är ju en smaksak. Tyget är en gammal gardin, så jag behövde inte vara sparsam med det. Huvudsaken är att den är så lång att virkfodralet hänger säkert och inte rör på sig. Bakstycket sydde jag fast med framstycket längst upp.
ÄNTLIGEN kan jag hitta precis rätt nål när jag behöver den! Och inte behöver jag riskera att göra illa mig på nålarna, det är bara att hänga över skyddet när det behövs!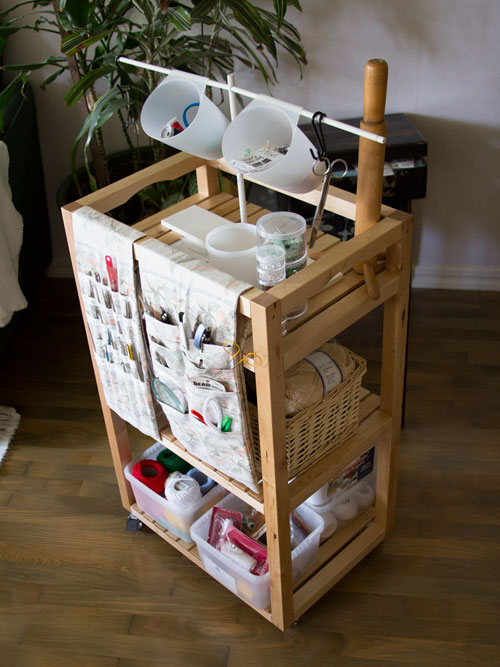 På vagnen får det plats alla mina korgar med garner, (nåja, alla är det väl inte), pärlburkar, skräpburkar och diverse annat. Du kanske har märkt att jag gjorde ytterligare ett fodral för alla de där andra sakerna: pennor, tänger, saxar, förstoringsglas, piprensare…
Den förstärkte jag med en bit kartong emellan fram- och bakstycket så att den skulle hänga rakt.
…och att jag behövde en vagn till! På den har jag nu mina mönster och mönsterböcker. Och lite mer garn… Märkligt hur jag klarat mig utan dessa så länge!
Ser ni kudden på soffan med mitt namn på? Den har rara dotterdottern gjort till mig! Så fin!!
There has been times when it has been both frustrating and dangerous to get inspiration to sit down to crochet!
Sit down to discover that the pattern I wanted to work with I cannot find, the yarn is somewhere else (no clue where), the crochet needle I find in all different sized except the one I need and suddenly all the time I have on my hands is spent looking for things! And finding them! The crochet needle in the rug or even worse, on the couch! Ouch…
I simply had to do something about it!
First I needed a crochet needle case! I organized all my needles in sizes, and measured how deep every pocket needed to be and how many of them I needed. It should not be so deep that the needle disappeared all together but a part of it should still be visible. I needed five pockets with five compartments each; If you want to do one of these, you might need more or fewer, smaller or bigger.
One thing I wanted also was a piece of fabric to cover the needles with so that no accidents happen when little children comes to visit. I also wanted to be able to hang it on a trolley so it is always available, and for it to be easy to remove from there if I needed to bring my entire collection elsewhere. For the cover I added twice the length of needle case, plus some extra inches on left and the right sides and an allowance on all sides.
Before sewing the down the seams creating the individual compartments, I sewed on a fabric tape across each pocket and wrote the size of every crochet needle that I wanted to store there. Neat and tidy, easy to find!
To make it look nice I cut out a piece as long as the finished case, placed the right sides in (wrong side facing out) and sewed them together except on one short side, turned it right side out, pressed and sewed the last side shut. Then there was no ugly visible seam.
I found the trolley I wanted at Ikea, the trolley MOLGER. It had three shelves and castors were included, so it is easy to get it out of the way from the couch when there is a need to make room for the the vacuum cleaner (aka my hubby). I also liked the top which allows me to put things on there without them falling of easily.
The back of the case got Velcro so that it could hang over the wooden strip at the top of the trolley. I cut out a back piece that had the same size as the front, but it's a matter of taste. The fabric comes from an old curtain, so there was no need for me to be frugal with it. The main thing is that it is so big that the case hangs safely and doesn't move.
AT LAST I can find just the right needle when I need it! And there is no risk getting hurt by the sharp needles, I just cover them up when I need to!
The trolley can hold all my baskets of yarns (well, not all…), bead containers, trashcans, and various other things. You might have noticed I also made another case for all those other things I need; pencils, pliers, scissors, magnifying glass, pipe cleaners…
I stabilized that one with a piece of card board in between the front of the back, so it would hang straight.
.. and I needed yet another trolley! I keep my patterns and pattern books on that one. And some more yarn.. Strange how I managed without these for so long!
Do you see the pillow on the couch with my name on it? My sweet granddaughter made it for me! So precious!