På Pinterest kan man få mycket inspiration, och något som jag sett mycket av där på sistone är Biscornus, om det nu heter så i flertal.
En Biscornu är en liten åttasidig stoppad nåldyna som vanligtvis inte är större än att den ryms i en handflata. Den kan vara av Aidaväv eller linne och dekorerad med broderi, korsstygn, pärlor, knappar, tofsar eller annat. Ordet Biscornu är ett franskt adjektiv som ungefär betyder sned, skev eller oregelbunden.
A Biscornu is a small, 8-sided stuffed ornamental pincushion usually no bigger than it fits in the palm of your hand. It can be made out of Aida cloth or linen and decorated with embroidery, cross stitch, beads, buttons, tassels or other objects. Biscornu is a French adjective that means crooked, irregular or skewed.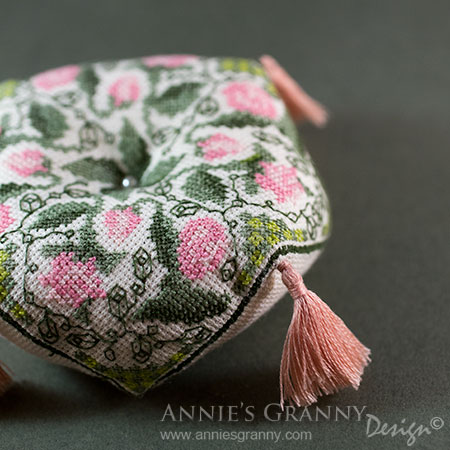 En biscornu görs av två tygbitar som sys ihop, där hörnet på den ena fästs mot mitten av den andra.
Bägge bitarna måste vara exakt lika stora, och för att de ska kunna vara det är det bra om tråden i väven kan räknas, som i Aidaväv eller linne.
Det finns en uppsjö med mönster till dessa, och de går att variera i det oändliga. Många av de som jag tycker är de allra vackraste kommer från bland annat The Sweetheart Tree, Faby Reilly Designs, Victoria Sampler och Just Nan.
A biscournu is made from two squares sewn together, where the corner of one square meets the middle of the other. To be able to make the two pieces exactly the same size it is necessary to use a fabric where the threads can be counted, like Aida or linen.

There are plenty of patterns available, and they can be varied indefinitely. Many of the most beautiful ones comes from amongst others The Sweetheart Tree, Faby Reilly Designs, Victoria Sampler and Just Nan. 

Det finns flera bloggar för de som tycker om att göra sådana här, bland andra Basket of Biscornu där en grupp entusiaster gör en Biscornu per månad eller The Sweetheart Tree Stitchers som broderar mönster från The Sweetheart Tree specifikt.
There are several blogs for those who like making these, amongst others Basket of Biscornu where a group of enthusiasts makes one Biscornu a month, or The Sweetheart Tree Stitchers that specializes in The Sweetheart Tree patterns in particular.
Vill man kan man istället för att göra en nåldyna göra en doftkudde genom att byta ut fiberfill mot lavendel, torkade blommor eller kryddor.
Om du vill prova att göra en egen Biscornu, finns det gratis mönster hos Victoria Sampler, Kinkavel Krosses, Gazette94 eller från Aurelle.
Det finns flera websidor som visar hur man gör, och den här från The Finishing School tycker jag är en av de bästa. Vill du se en film, tycker jag den här från Julie Cook är bra.
Instead of making a pincushion you can can make a fragrance satchet by exchanging the fiberfill and stuff the Biscornu with lavender, dried flowers or herbs.

If you want to try to make your own Biscornu, you find free patterns Victoria Sampler, Kinkavel Krosses, Gazette94 or from Aurelle.
There are several websites that has Biscornu tutorials, and I think the one from The Finishing School is one of the best. If you want to see a movie, I can recommend this one by Julie Cook.
En Biscornu kan också bestå av flera sidor. Se den nedan, Snowflakes in the snow, som har 15 olika sidor där ingen sida är den andra lik! Mönstret har Lesley Bousbaine från Tintocktap gjort, och du hittar en beskrivning här. En sådan här står absolut på min att-göra lista! Som bara blir längre och längre, för mycket roligt att göra och för lite tid…
A Biscornu can also consist of more sides than two. Look at the one below, Snowflakes in the snow, which has 15 different sides and all sides are unique! The pattern is by Lesley Bousbaine from Tintocktap, and you can find a tutorial here. To make one of these is definitely on my to-do list! That is growing bigger and bigger, too much fun stuff to do and too little time… 
Vill ni se fler bilder, kolla in min Pinterest board, Biscornu!
If you want to see more images, see my Pinterest board, Biscornu!