Amigurumi kanin i miniatyr/ Miniature Amigurumi Bunny
Jag är med i en yahoo grupp som heter Thread Animals. En grupp av likasinnade som gillar att hålla på med garn, tråd och nål. Här stickas, virkas och nålfiltas det, och här både lär man sig och delar med sig av det man själv kan. Där finns det gratis mönster för att komma igång, och massor av inspiration! En underbar grupp att vara med i med massor av talangfulla medlemmar.
En av dessa är Racquel Alexia Barrett som har delat med sig av mönstret till den här lilla amigurumi-kaninen. Jag tyckte den var så söt, att jag inte kunde låta bli att göra den!
I am a member of a yahoo group called Thread Animals. A group of people fond of working with thread, needles and hooks. Here we knit, crochet, needlefelt and share what we know and learn from one another. There are free patterns to learn from and lots and lots of inspiration. A wonderful group to be a part of with lots of talented members. 
One of which is Racquel Alexia Barrett who generously shared her pattern of this miniature Amigurumi Bunny. I thought the bunny was so cute, I just had to make one! 
Garnet kommer från Make & Create, ett mjukt och fint bomullsgarn som kan virkas med både enkelt som här eller dubbelt. Jag köpte två förpackningar så att jag kan blanda som jag vill. Med enkelt garn använde jag virknål Boye nr 8 och med dubbel Boye nr 4.
The thread is from Make & Create, a soft an fine cotton thread that can be used both single or double. With single thread I used crochet hook Boye nr 4 and when double, Boye nr 4.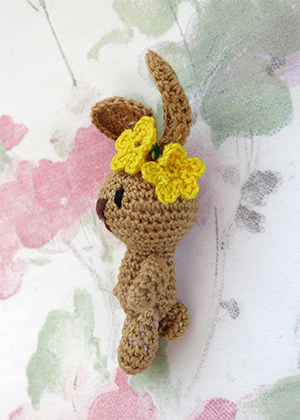 Kaninen fick ett hårband av små virkade blommor också. Det är ju äntligen sommar!
Det var svårt att stoppa en så liten kanin utan att stoppningen syns mellan maskorna. Det skulle behövas färgad stoppning, men jag vet inte om det finns någon sådan att köpa. Någon som vet?
I made the bunny a hair band of small crochet flowers, it is summer at last!
It was difficult to stuff such a tiny bunny without having the stuffing show between the stitches. It would have been better to use colored stuffing, but I don't know if that is for sale anywhere. Does anyone know?