Det är fantastiskt roligt att inte bara virka små nallar, utan även dockor! Jag tror aldrig jag blir så gammal att jag växer ifrån dockor…
I will never grow too old for dolls…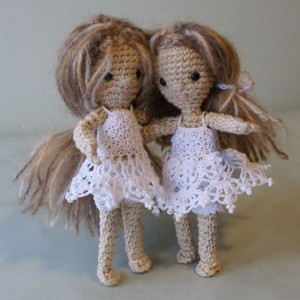 Mini Free Spirit:
Mönstret tillhör den generösa, produktiva och enormt begåvade Beth Webber från Indiana, USA. Hon gör inte bara mönster till virkade dockor, utan även dockhus, dockmöbler och mycket mer.
Hon har en lång rad med gratis mönster till både dockor och dockkläder.
Se hennes hemsida:  By Hook, By Hand .
Det är kanske lite svårt i början med engelska mönster, men man lär sig fort. Det finns flera ställen på nätet med översättningstabeller för virk- och sticktermer, t.ex den här ifrån Drops: Ordlista.
The pattern for these dolls is designed by the generous, productive and very talented Beth Webber from Indiana, USA. Not only does she design patterns for crochet dolls, but also doll houses, furniture and much more.
She has a lot of free patterns for both dolls and dolls clothes, see her blog By Hook, By Hand.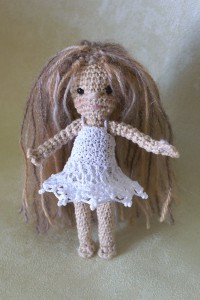 Den gröna klänningen ovan är virkad av garnet DUNE från SIRDAR.
The green dress above is crocheted with the thread DUNE from SIRDAR.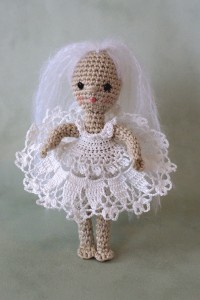 Klänningarna är anpassade dukmönster, och den till höger är broderad med blommor i rosa och grönt.
The dresses are adapteded doily patterns, and the one to the right is embroidered with flowers in pink and green.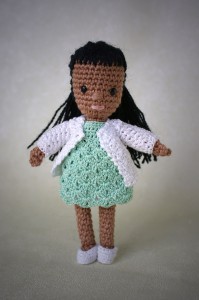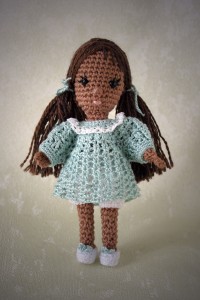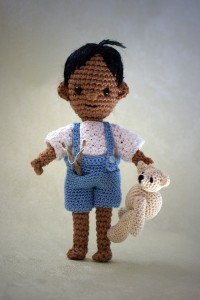 Jag har virkat dem i bomullsgarn 8/4 med virknål Boye nummer 8 eftersom jag vill ha maskorna täta så att inte stoppningen lyser igenom. Armarna och benen innehåller piprensare så att man kan man kan böja dem. Inte för många gånger dock, eftersom piprensaren bryts av då. Men å andra sidan är dessa dockor inga leksaker.
Ögonen är 4mm knappögon. För det mesta gör jag klädernas design själv.
These are crocheted in cotton thread 8/4 with crochet needle Boye number 8. I use a smaller needle then recommended for the thread, because I want the stitches to be so tight that the stuffing doesn't show in between. The arms and legs contain pipe cleaners so they are bendable. Not too many times though, as the pipe cleaner will break eventually. But on the other hand; these dolls are not toys to play with.
The eyes are 4mm button eyes. The clothes are mostly my own design.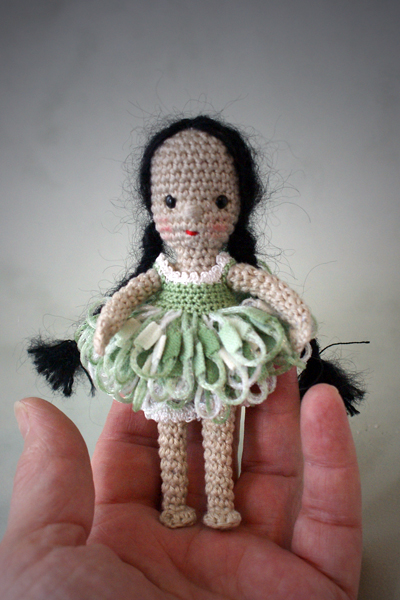 Så små är de egentligen.
This is how small they really are.